Perhaps more than anyone else in the world, Tamara Schenk knows sales enablement. She has been conducting research and publishing studies and research-based blog posts on the topic with CSO Insights for many years and is the top expert to consult when you want hard data and deep insights.
That's why we were so excited when she announced that she would be publishing a book with Byron Matthews this year. Sales Enablement: A Master Framework to Engage, Equip, and Empower a World-Class Sales Force is a treasure trove of data, insight, and practical tools for transforming sales enablement into a powerful engine within any organization.
We caught up with Tamara recently to ask her about her work and her book. Here's what she had to say.
Q: What was your impetus behind writing the book? Why now?
We have been researching sales enablement for many years, and our research revealed how fast the sales enablement movement was growing within the industry. In 2013, 19.3% of organizations reported having a sales enablement function or initiative, and in 2015 it had grown to 25.5%, then 32.4% in 2016 and then 59.2% in 2017. We don't have the numbers for 2018 yet, but we are curious to analyze if this trend is continuing.
This fast growth means many people got into new enablement roles and responsibilities not knowing what it is and how to approach it to be effective. So, the need for clarity has never been greater, and there was no foundational book out there that addressed sales enablement from a strategic, and more holistic perspective, and based on research.
Q: For readers of your blog and studies, is there anything in the book that will surprise us?
I hope so! A study looks at one year's data and shares the trends and highlights. Additional assets that provide more "how to" information, such as frameworks and templates are usually created for our research members only. Now, those assets are included in the book.
Additionally, we have captured the voices and stories of effective sales enablement leaders to make it a research-based but also a very practical book that can be used as a guide for sales and sales enablement leaders. As an example, we included a process and a template for how to create a sales enablement charter. Just to give you an idea.
Q: What was the most interesting or surprising thing to you that you learned during the course of your research for the book?
The most interesting thing I learned was the need for sales enablement to be scalable. There is a success story in the book that shows the need to be highly scalable as an enablement function especially in fast-growing organizations. If the organization acquires other companies, the request of the C-suite often is "get them up to speed within three months or less."
That strengthens the need to focus on what we call "enablement operations," which refers to the need to formalize the cross-functional collaboration with all the functions enablement teams have to work with, and to establish a process for how to design, create, localize, distribute and provide enablement services such as training, content, or tools. It cannot be done on an ad hoc basis if you want to guarantee predictable quality and speed at the same time.
Another interesting finding is that enablement cannot be successful without a thoughtful approach to change management and change leadership. Providing enablement services is one thing, but creating effectiveness across the sales force can only happen if there is a) a profound change and communication approach in place, and b) if the sales managers are on the same page, enabled to be great frontline coaches and required to coach accordingly to drive adoption and reinforcement.
Q4: You talk a lot about "outside-in" thinking, which means that you focus first on the customer's point of view, rather than on the seller's. What are the biggest mistakes you see organizations make in regard to "outside-in" thinking?
Great question! Besides not considering the customer's path at all, the biggest mistake is to do a customer journey mapping without the customers involved (yes, that happens!).
Another mistake is to do it once, even if it's done with the customers the right way, and to assume, "now it's done and we can tick this box." That's not true because customers continue to change their behaviors. Organizations should leverage the wisdom of their sales force and technology to detect when buyers are changing behaviors, and adjust internal processes and steps quickly.
Q: In your book, you establish a Sales Force Enablement Clarity Model that helps organizations understand the appropriate structure for their sales enablement efforts. The model is compared to a diamond, and each element of it is called a "facet." Is there a facet that organizations are especially bad at?
The facet that's most of the time not done right is the sponsorship, strategy, charter facet at the bottom of the diamond. If only 13.1% of organizations report having such a formal vision and strategy captured in a charter, then there is room for improvement. It means that the others work in an ad hoc, project-based or informal approach. Our data proves year after year, that there is a significant impact on quota attainment when organizations get this facet right. In 2017, the improvement was 27.6%. Equally important is the cost of doing nothing, which means running enablement in a tactical way on a project basis. Those organizations couldn't even achieve average performance. Instead the decline regarding quota attainment was 25.0%.
Another one is the enablement metrics! Usually, organizations measure enablement success with lagging indicators. That's OK for sales leaders, but sales enablement leaders have to include leading indicators such as, for instance, conversion rates, open rates, response rates and many more, to ensure that they have an early warning system in place that tells whether they are doing the right things in the right way or not. The longer the sales cycles, the more critical are leading indicators to measure sales enablement progress, impact and success.
Q: Is there anything organizations are mostly doing right?
Most organizations are doing a lot in the facet, "Effective Enablement Services," as this is what their audience perceives from enablement. However, doing a lot does not always mean it's effective.
Based on our 2017 research, 64.7% of organizations have NO alignment between their content and training services. A typical example of this is when the value messages used in product training services are not consistent with the messages in the content salespeople are asked to use nor in the online content that's used online. If value messaging is inconsistent, salespeople are confused and continue to waste their valuable time to recreate what works for them. And customers are confused, too.
Successful enablement teams orchestrate all value messaging efforts, together with marketing, along the customer's path to ensure that all content and the related training services are consistent with each other so that all enablement services can be effective in front of the buyer.
Q6: What did you learn in your research about the role of sales technology and how it should be implemented for sales enablement?
Technology plays a vital role in sales enablement. First and foremost it's about the foundation, the CRM that needs to be in place, ideally well adopted across the sales force.
It's so crucial because enablement services cannot exist in a vacuum. If salespeople cannot connect the dots between what they learned and what they should use in their daily workflow, then the learning is not applied and the content is not used.
So, this CRM foundation is the first key to success, ideally already established by sales operations. If not, it's an excellent opportunity to collaborate with sales ops to develop this foundation.
The next step should be to focus on enablement content solutions, learning and training and coaching solutions that can be integrated with the CRM. We see a higher impact in quota attainment if enablement solutions are integrated, improvements by 9.5% in 2017.
However, technology requires enablement teams to do their homework first. As an example, content services should be optimized first (from product push content to content customers care about), and content should be tailored to the customer's path, the relevant buyer roles, and the typical buyer challenges.
Otherwise, if your content is tailored to products only, enablement technology has a hard time to recommend specific content assets to support salespeople's opportunities. And, if the content is not designed along the customer's path, enablement content platforms can only play the same bad music louder, in one place…
So, the critical dependency is always the quality of content. The same principles apply for training services. Enablement teams can manage tons of learning services and automate even more (eLearning, interactive sessions, etc.), but the training approach and the training content has to be optimized first to address the main selling challenges.
Q: Can technology hurt the sales team's efforts?
Yes, if the technology, let's say the CRM, is not designed for customer-facing professionals, but for sales operations' forecast and reporting purposes. If so, you won't drive adoption and if not, what's the value of the data in your CRM? Only 25% of organizations are confident in the data in their CRM system, and only 25% agreed that it improves sales productivity (CSO Insights 2017 World-Class Sales Practices Study).
Q: If a sales leader were to take only one big lesson away from your book and implement it in their organization, which one should it be?
Sales leaders should understand the concept and the idea of sales enablement as a strategic discipline to bridge the growing buyer-seller gap. Sales leaders should realize that sales enablement is a discipline that has to design and orchestrate all enablement services along the customer's path to engage, equip and empower customer-facing professionals and their managers to meet the requirements of the modern buyer.
As we know from our 2018 Buyer Preferences Study, the gap is growing, so every organization has the transformational need to engage, equip and empower their sales forces accordingly. And sales enablement, set up the right way, is the engine to master this challenge.
Q: Is there anything else you want our readers to know about your book?
Assess your current state (we provide a tool!), and build your charter from there. And if you don't do it already, don't forget to engage, equip and empower your sales managers to become great frontline coaches. There is lots of content in the book around sales coaching, too, because it is the most impactful enablement service that can improve win rates by 27.6%.
Q: Now that your book is out, what's next for you?
So what's next is our 2018 Sales Enablement Study! We're currently analyzing the data, so that will be very interesting, and we'll report on that end of September. There have been some interesting trends in industries and company sizes and where they're taking enablement seriously, so we're looking forward to sharing that.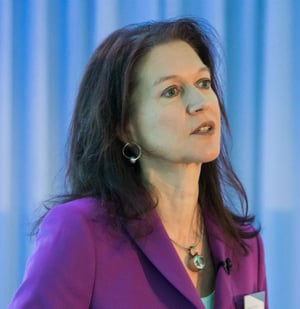 About Tamara Schenk

Tamara Schenk is research director at CSO Insights, the research division of Miller Heiman Group, w
here she is focused on global research on all things sales enablement, CX and sales effectiveness.
She is, together with Byron Matthews, the co-author of "Sales Enablement – A Master Framework to Engage, Equip, and Empower a World-Class Sales Force." She enjoyed twenty-five years of experience in sales, business development, and consulting in different industries on an international level.
Before becoming an analyst in a research director role in 2014, she had the pleasure to develop sales enablement from an idea to a program and a strategic function at T-Systems, a Deutsche Telekom company where she led the global sales force enablement and transformation team.