A few weeks ago, when I wrote about the purported "death of solution selling," reader response was tremendous. In the blog comments and on LinkedIn, readers shared a wealth of insights, discussion, and challenges to the article's assumptions, all of which got me thinking more deeply about the Challenger vs. solution selling debate.
I decided to find out whether anyone has developed good data that we can pick apart. I wanted to know what the data says about whether Challenger Sale approaches are better, worse, or just different.
It turns out, Mike Schultz and John Doerr of the RAIN Group had taken that approach. For their white paper, "What Sales Winners Do Differently," they went directly to 700 B2B buyers representing about $3.1 billion in annual purchases, and asked them what winning salespeople do differently from the others.
The result of that research sheds interesting light on the Challenger vs. solution selling debate. It turns out, that solution selling doesn't quite work like it used to…
Solution selling behaviors don't define winning salespeople
As the founders of the Challenger Sale approach (Brent Adamson and Matthew Dixon) suggest, traditional solution selling techniques are no longer the defining behaviors of winning salespeople.
However, that's not the end of the story. Contrary to the assertion that "solution selling is dead," which makes a great PR campaign, it turns out that the core behaviors of solution selling—relationship building, needs assessment, solution building—are in fact shared by top salespeople. It's just that those behaviors are also shared by second-place salespeople.
As Schultz and Doerr put it, basic solution selling skills (relationship building, understanding pain, solution building) are still important, but they're not sufficient for top performers: Solution selling is "the price to play, not the differentiating factor." According to Schultz and Doerr, some of the behaviors of solution selling have become counter-productive.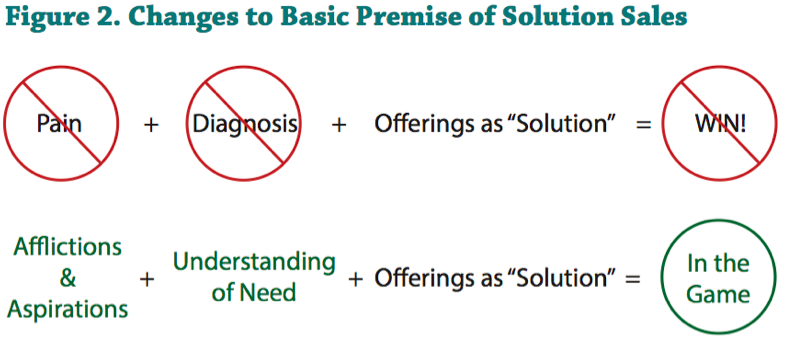 Image copyright: RAIN Group
Buyers don't want their needs diagnosed
Within the traditional solution selling framework, understanding pain and diagnosing needs are a core skill. However, according to the RAIN Group findings, buyers rate this skill very low on the scale of what makes salespeople effective. Instead, they are more interested in whether a salesperson understands their needs.
This makes sense when you think about how buyers buy today. By the time they reach a salesperson, they will usually have already completed significant research. They already understand their problem (or think they do), and they've already considered the potential solutions. They don't need a salesperson to walk them through what they're experiencing and what they need—but they do need the salesperson to understand what they're experiencing and what they need. This insight lines up with The Challenger Sale's findings that buyers don't believe that they need salespeople to build solutions for them.
And they do want fresh perspectives and ideas
In the RAIN study, buyers rated the salesperson's ability to bring new ideas and perspectives as the most important differentiating factor between winners and second placers. This certainly lines up with the Challenger Sale's argument that salespeople need to challenge a buyer's assumptions.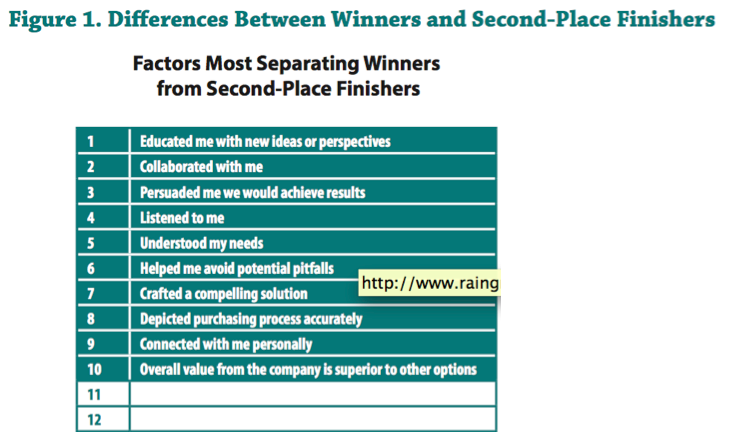 Image copyright: RAIN Group
But they don't actually want to be challenged
At least, not in so many words. Instead, they use words like "surprised and delighted" to describe how they want to feel about new information presented by salespeople. Schultz and Doerr suggest that buyers want to be inspired by new ideas and opportunities, and not just challenged by potential dangers.
In fact, while new ideas and perspectives were the #1 differentiating factor of winning salespeople, the #2 factor seems almost in direct conflict with it: Collaboration. Buyers, on the whole, highly value a salesperson's ability to collaborate with them to co-create the winning solution.
This finding appears to be in direct support of solution selling and in direct contrast with the Challenger Sale approach.
It's the combination of surprise and collaboration that wins
Based on RAIN Group's data, it's neither the ability to challenge and surprise the buyer, nor the ability to build a solution, that defines the winners. It's the combination of those two factors, with the collaborative approach.
In their paper, Schultz and Doerr identify three levels of sales behavior, all three of which are necessary to become consistent "winners."
In Level 1, salespeople behave according to traditional solution selling methods. They connect with the buyer, and connect the buyer's needs to the seller's solutions.
But in Level 2, salespeople take a more proactive stance than is generally thought of as "solution selling," and is perhaps more closely aligned with the Challenge approach: They convince buyers that they can achieve maximum return, with little risk, and that their own solution is the best one. This represents a unique turn from both solution selling's traditional "pain" focus and the Challenger Sale's hidden problem focus. In this level, salespeople shift from focusing on "afflictions only," to "afflictions and aspirations." In other words, they inspire the buyer to see the opportunity to achieve something larger than they thought they could achieve. They help buyers to detect their motivation to both get "away from" the status quo and "towards" a more attractive future outcome.
Finally, in Level 3, winning salespeople collaborate to achieve a mutually satisfying goal.
As the authors of the RAIN study point out, only a small percentage of salespeople currently achieve all three levels of selling. Of course—by definition, top sellers represent only the top percentage of sellers. The research does provide valuable insights into where sales teams can most effectively focus their attention in developing effective sales approaches. The study also points out that helping teams achieve high performance in these areas requires more than just training—it requires effective coaching and reinforcement.
Driving top sales performance requires an organization-wide effort to develop not only the culture and training, but also the systems and software to support ongoing improvement.