When speaking to sales leaders and CEOs, I often hear complaints about how long it takes to hire sales people and get them to generate positive cash flow for the company.
To get inspiration and recommendations from sales managers, I asked what can be done to speed up the ramp-up time for new sales hires in some LinkedIn groups and received a record amount of replies – in the hundreds! Thanks everyone for contributing with valuable feedback and insights!
I hope that you find these comments as interesting and insightful as I did, and that they'll help you create and execute a plan that speeds up the time from recruitment to full productivity!
To make sense of the feedback, I looked at the nature of the replies and noticed they fell into one of three categories, namely:

1. Tactical or strategic
2. People or process
3. A specific recommended action
When analyzing the responses further, 73% focused on people before process and 80% of the responses focused on tactics before strategy. For a complete breakdown, see the pie chart below.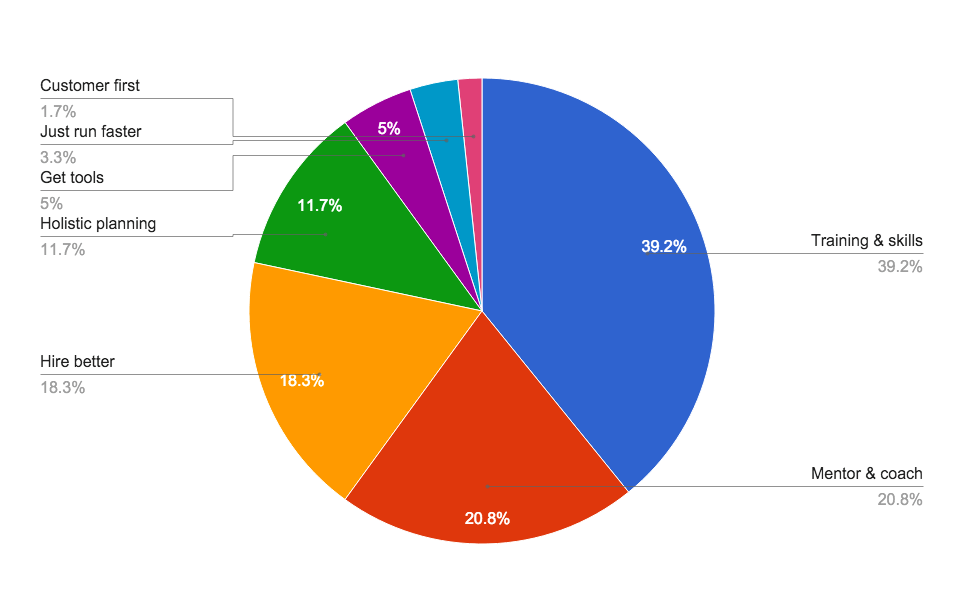 Training & skills
Many respondents highlighted that sales people are often recruited and expected to start producing results without receiving proper training. Without a proper understanding of customers, competitors and processes, ramp-up times will inevitably take a long time. A few examples of the responses received in this category:
"Poor training and underdeveloped infrastructure = slow start (and high turnover). Hiring a salesperson is a big investment. Too many companies don't protect their investment."
- Phil Young
"I think it takes a long time for sales people to be effective because they need to find their voice within their new employer's environment. Many already have a voice conditioned for another company. They need to see other successful sales people in action to start honing in on what works in the new environment.
- Crosby Butler
"Training a sales person with consultant capability is a blend of natural talent or born talent combined with product knowledge. The sales person must know the customer issues and problems and relate to the product experience rather than product functionality and features."
- Aminuddin Yaacob
First off, make sure the sales person is very familiar with the product/service the business provides and has a good basic understanding of the value it can add to prospective clients. Once they are familiar with the the business selling and overcoming objections should be a whole lot easier.
- Sam Dunning
"Employers are to equip their sales force with all the necessary training with regards to product or service overview, internal sales processes, what groups are involved, sales support, after-sales support and implementation."
- Jeff Canete
"A) good understanding of product/solution b) provide proper sales training c) understand competitors d) tap the right set of prospects e) have confidence"
- Prashant Nair
"It takes time for juniors because the only thing they want to do is talk about the products. They want to say everything they know to show they are professional. The problem is that they are not customer-oriented. They have to learn to ask questions before selling anything. After that they have to strenghten their active listening to be able to catch the "right signal" to use the right sales argument at the right time."
- Pierre Mithieux
Mentor and coach
After training and skills, the second most recommended action was to coach and mentor new sales people. Here is a selection of the responses received:
"Most of the time the sales people simply don't know what they don't know and their managers are so caught up in the minutia of what their other core responsibilities are the sales person is set up for failure by proxy. They never get a clear timeline to learn their chore responsibilities or be made responsible but are expected to be self taught or learn through osmosis. I believe there is not enough of mentoring happening."
- Bob Waterston
"Mentorship. It's as simple as that. Human beings are imitation experts. We learn best from what we see and experience. Training is a good way to give the new consultant knowledge and understanding but it doesn't give them the confidence to implement. If you want to fast track your new sales people into super stars get them paired with a mentor for a month or more and you'll see rapid change."
- Chris McCormick
Most of the time the sales people simply don't know what they don't know and their managers are so caught up in the minutia of what their other core responsibilities are. The sales person is set up for failure by proxy.
Bob Waterston
"Get on the phones or out on the street. Make it happen. Come back and tell me when you have!" That is the life for most 'new' Salespeople. Dedicated Leadership, Management and Coaching are key, shortening the on-boarding process is not the answer. Always be with them, alongside them, provide the 'hand-holds' that help them to reach the summit of expectation. Consistent re-inforcement of the attitude, behaviours and techniques is the key to developing talent."
- David Davies
"It's like learning to surf or stand up on a paddle board when in a new place. You are looking for balance within yourself and cues from that environment. You don't want to fall but almost have to in order to master it. Creating the space to let someone find their voice is what great sales leaders do. Patience is the key and an being able to display an unwavering belief in that person's efficacy."
- Kelly A. Gallagher
"If indeed, 'Selling is helping people make decisions' then I believe that effective sales professional coaching is helping a salesperson to 1) understand their own motivations and predictable irrational behavior, 2) encouraging them to "read" these in others, then 3) incorporate these insights into tried and proven influencing strategies."
- Zella Jackson Hannum
Hire better
Quite a few responses talked about slow on-boarding being the result of a poor hiring process:
"Hire slow, fire fast. Share the vision and reward openly those that take accountability and initiative on their own self improvement in addition to what you provide. Teach the difference continually between a customer (transactional) and a client (partner). Weed out the cancers that don't take initiative as they will not take accountability as well. Keep C - Players away from your A - Players. Let your competitors hire your C - Players."
- Mark Villareal
"The position description and key personal attributes are key. You need to know what you want them to do and what they need as a person to do that. Then recruit for those key attributes. Personally i have always found that industry experience can be a negative factor for long term success. Then have a good on boarding program and voila, they're selling. Either they can sell or they can't and if they can't you have failed in step 1 - understanding what you want them to do and what you need them to have to do it."
- Bruce Henderson
"Sales reps are effective since the time they were born. "Sales" is in people's DNA. Either you have it, or you don't. And those people we can help to make them even better. Maybe we should look again the criteria we use to characterise someone "good sales rep". If you choose the right one's, effectiveness is granted."
- George Melesanakis
"They need to have that natural drive to succeed and that comes from within. This cannot be taught. Yes you can give them all the training In the world and yes there will be mistakes along the way. As long as that sales member learns from their mistakes and strives forward. Eager dedicated staff are hard to find."
- Lisa Keen
Holistic planning and execution
Some of the comments did not highlight just one tactic, but took a holistic approach:
"Many companies focus their on-boarding on product knowledge, but that's usually a mistake. The most effective on boarding helps new hires to identify and qualify their perfect prospects, and equips them to have high-quality sales conversations throughout the sales cycle. It also coaches them in how best to build pipeline, answer tough questions, share powerful insights, tell compelling stories and to build a case for change. In other words, they share accumulated wisdom and best sales practice. And they tend to get new hires on quota a lot faster as a result."
- Bob Apollo
"I have always had new sales people go through extensive product and or services training, then shadow a highly productive sales person and then tie that individual to a mentor at the end of 3 months that sales person was already being productive, after that 90 day period they were on their own (although reporting to a sales manager who closely watched KPIs and rode with that person at least twice a month for a day or two by 5 months the sales person was ahead of target..."
- Dr. Norman Roth
"I have found the following will influence the growth: 1) a recruitment profile of your top salespeople, 2) a recruitment panel that is inclusive of salesteam members, 3) hiring people with previous sales genre (B2B, B2C), 4) bonus that is based on team sales (they will help each other more, 5) excellence in training including onboarding, product/service knowledge, shadowing, weekly team and supervisor evaluations, 6) ensuring that rep has a minimum of two selling styles (relationship should be one) and 7) host an annual sesssion in which targeted clients will sit on a panel and talk with your sales reps concerning their needs and assessment of industry sales reps."
- Nathaniel Patterson, Jr.
"The inability to get a reproducible process is that most companies do not have a proper induction or on-boarding program. Such programs should be clearly broken down in various phases. It is also an excellent approach to let the new sales professional know what is expected of her/him; this can be translated in some form of probation and allows the manager to work with the sales professional in setting up expectations and upon failure to meet, develop and implement corrective action program to ensure success (or discipline including termination well understood by both)."
- Jacques J. Marcotte
"We use the following process and have shorted the "window to first sale" significantly: 1. Use a candidate hiring profile to find the right talent (allows us to create a consistent on-boarding process/scalability), 2. Align leadership on KPIs of first 30/60/90 days, 3. focus onboarding on understanding our buyer: a. problems we solve for client, b. general market understanding, c. sales methodologies, 4. for ongoing training we focus on a. product training/feature differentiators, b. organizational structure, c. competitive landscape."
- Mike Meyerring
Run faster
These replies highlighted the need for new sales hires to increase the velocity of their activities to become productive faster:
"The only way to generate sales is through activity, make the calls set up appointments if you fail consider it a dress rehearsal. Keep the positivity going & soldier on."
- Nathan Stemmet
"It takes time to develop relationships and to earn the trust of your customer. If you are doing those things from day one, the sales person is effective."
- Laure Hristov
Tools & resources
In this category of responses, the need to provide new sales people with the right tools and resources in order for them to succeed faster was highlighted.
"You cannot be expecting sales people to "hit the ground running" and provide record breaking sales with poor tools and information."
- Rodney Lunt
"Clarity, in terms of resources - what marketing practices/collateral are in place for the rep to use, can new ones be created - and by who?"
- Hannah Page (nee Griffith)
"The new salesperson is most often hired to replace someone that's left/been fired and therefore left the territory unmanaged. One of the reasons ramp-up takes so long is there's no one doing the business development activities (intelligence gathering, need and impact identification, getting access to multiple stakeholders and initiating relationships etc) to ensure they have meaningful pipeline to run at when they join and have completed their training and onboarding."
- David Meyer
Customer first
A few of the respondents made the point to start with the customer in mind:
"Many new salespeople arrive with pre conceived notions about what will work. Instead, they should spend some time listening - to the customer, to the markets and to competitors. And then form the sales approach."
- Saurin Pandya
"The reason most salespeople take 8-12 months to become effective has one common problem: value proposition that connects with buyers today. The closer your value proposition is to what buyers must have to make decisions, the less time it takes for salespeople to become effective."
- Mark Allen Roberts
In conclusion
The sheer amount and diversity of responses to this question makes it clear that ramping up new sales people is a big challenge and has a lot of room for improvement. Considering that the average cost of a failed ramp-up or miss-hire can be six times base salary for a sales person and 15 times base salary for a manager (according to the book "Topgrading" by Bradford Smart), it makes sense to give this topic more attention.
A proper onboarding where new hires learn about your customers, your company's solutions, competitors, sales process and methodology, combined with clear expectations, mentorship and coaching, will get you off to a good start. Here's another blog article on the topic: http://www.membrain.com/blog/how-to-ramp-up-new-sales-people
Please feel free to comment on this article to share your ideas and recommendations as well!
Looking for better ways to speed up your ramp-up times? See how having a sales process in Membrain can help!