Few factors impact the success of a sale more than how you communicate the value that your product or service will bring to the customer. Yet many salespeople fail at having meaningful value conversations with their prospects.
In fact, research by Forrester, The Economist, Gartner, and others show sellers perform poorly, or not at all, for this important communication over 80% of the time.
Jim Berryhill and his team at DecisionLink have introduced an application that changes the game by providing a user-friendly platform for quantifying business value and driving substantive value conversations at every stage of the pipeline.
We're excited to partner with DecisionLink to provide the DecisionLink solution to our customers. We caught up with Berryhill recently to ask a few questions about his product and how it helps sales teams dramatically improve outcomes.
Q: Where did the idea for DecisionLink come from?
Berryhill: I spent about thirty years in enterprise software sales, first as a sales rep, then front line manager, then general manager. As a manager, I helped teams build out the economic value proposition content for key deals, on the fundamental idea that if we're asking for a dollar, we should be able to tell them what they're going to get for that dollar.
Sellers should be able to to address economic value, that's the ultimate language of business.
Jim Berryhill
For instance: How much money are they going to save? How much will they make? What efficiencies will they get or risks will they mitigate? That information should be foundational to all sales conversations. At one of the companies I worked for, Siebel Systems, we had a team of about fifteen professionals who did the work of quantifying the value proposition for key deals. That group could produce about 350 to 375 of these business value assessments per year.
That sounds like a lot, but the reality is that each US sales rep got about 0.9 of a value assessment each year. If you believe as I do that it ought to be foundational to every conversation, with every buyer, the 0.9 number is unacceptable.
I wanted to build an application that would bring automation, ease of use, and ease of communication to that problem, so that every conversation could be based on the economic value proposition. That was the genesis of DecisionLink.
Q: How does DecisionLink work?
DecisionLink is a cloud-based software application that we deliver either through a web browser using our own user interface, or through Salesforce. It can be accessed from a laptop, desktop, tablet, or smartphone.
Let's say I'm a sales rep and I have 50 accounts in my territory. I'm selling a solution that impacts labor cost. When building out my value hypothesis, I simply open the application and answer pre-set questions: What is the company, what is the industry, where is it located, what is the use case, who am I competing against, and so on. The application takes all that data in and produces an estimated value proposition or hypothesis of value.
Doing that the traditional way with a team of specialists would take two or three days or several weeks, depending on the complexity, but with an automated application, it can literally take a few minutes.
Q: How does it do that?
Berryhill: Before putting the application in the hands of salespeople, we work with our customer to build models that represent the beneficial capabilities of their products, services and solutions, and these models sit within the program.
To do that, we had to solve some really tough problems. For instance, let's say we're addressing the cost of labor. That factor may have numerous implications: Reduce cost of labor, increase output, etc. And there are numerous factors that impact it: The industry, geography, use case, etc. We call them situational variables, and the problem of discovering them and calculating based on them is like a rubik's cube of variables.
To solve the rubik's cube for prospect #1 is different than for #2, and #3 and so on. That's why the work's always been done by hand by skilled–and expensive–analysts. The problem is how to get all of these variables into the application and then create a simplified user experience for a non-expert.
Q: How do you decide what variables are important?
Berryhill: We do it with our customers on a case by case basis, but we also have prebuilt value objects, about 350 of them, that simplify the process.
Q: And then how do you validate that the output numbers are right?
Berryhill: There's a healthy degree of skepticism from clients at the beginning. After all, how could an application possibly do this, when it takes experts a couple of weeks to produce these analyses? So we go through a proof of concept with them, to demonstrate the viability of the solution.
The idea of automating this process isn't new–some other companies have attempted to do so before. But, in the words of one of our customers, "Spreadsheets don't solve this problem. We've looked at every solution out there and have been disappointed to find apps that are little more than cloud-based spreadsheets that only skilled analysts can use. DecisionLink actually created a robust, enterprise-class app that solves the problem."
The proof of concept is a core part of our engagement, answering the customer's question, "Will it work for me?" And we can answer that very quickly. Part of our value is "time to value"!
Q: What does the output look like?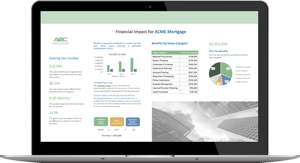 Berryhill: I think that question is best answered with visuals. Our application produces 8-10 out of the box assets that are "sales ready". One example is a powerpoint "value deck" that includes a slide about the prospect company, a slide about their industry, a slide regarding their performance against the competition, and a slide containing the value proposition.
Some of this data is scraped from the internet, some is generated by our app and is proprietary to us, some is from commercial data sources, and some of it is provided by the salesperson. The resulting visuals are branded, consistent, and provide tools for the salesperson to have meaningful conversations at every stage of the process. And salespeople can create as many of these as they want to, as they learn new information.
Q: Can you share some numbers around how this helps your users?
Berryhill: One of our customers just ran metrics after their first 90 days with DecisionLink, measuring their close rates against their forecast. That's one of the first things we impact, because if you do a better job of presenting your value then you are more likely to close a higher percentage of your deals. So this company, at the end of their first quarter with us, showed a 25% higher close rate, from 48% to 60%. That translates to $1.2 million in sales for the same sunk costs. So that's one example.
Another client did a split test analysis and showed that they had a 12% lower discount rate on deals using DecisionLink as compared to deals that were not using DecisionLink.
Another did an "Account Based Marketing" campaign using DecisionLink generated value positions for each account and got a 25% response rate to the campaign.
Q: You recently partnered with Membrain. Can you talk about why?
George and I met at a conference. George is a credible voice in the industry, and we liked him. A lot! We built some models for Membrain, and provisioned George and his team with our application. It's a good fit because both tools help salespeople close more deals. So we'll be selling DecisionLink as a value add to the Membrain product, as a plug-in.
We like Membrain in particular as a partner because most CRM apps are "systems of record," and they're great at that. They're also good as an integration platform for the many apps and functions associated with customer/prospect engagement. That's the good news. The not so good news is that CRM apps do very little, if anything at all, to facilitate the selling process.
They don't help reps find prospects, build engagement strategies, compete for business, or close deals. I'm sure their makers would disagree, but survey sales reps and ask them.
George and the Membrain team understand the value of a CRM to empower sellers and unleash their potential. By unlocking value and empowering sales, Membrain delivers what is important for sales pros and the companies they work for.
Q: Any other stories or thoughts come to mind?
Berryhill: I like this story. A client just closed a multi-million dollar deal with AT&T, and they went through 17 iterations of the value prop with their customer before it was done. I thought that seemed like a lot of work, but the salesperson said no, it was fabulous, because creating all those iterations improved the bonding and relationship between the sales team and the buying team, and led to a better overall outcome.
At the end of the day, the impact of our system is that sellers are better able to communicate with buyers about the value that the buyer will achieve. And that communication is off the charts better than communication about what a product does.
We would love to show you how DecisionLink, combined with Membrain, can help you close more deals. Contact us today for a demonstration.
About Jim Berryhill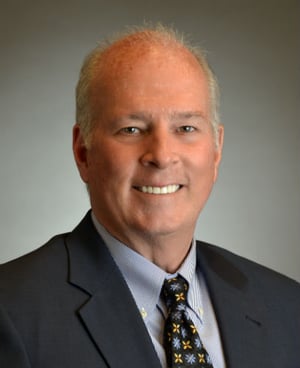 Jim Berryhill is Co-Founder and CEO of DecisionLink. Jim has extensive experience in sales and executive management at ADR, CA, Siebel and HP Software, in roles from individual contributor to leading sales organizations with several hundred sales professionals and $1 billion in revenue. He is one of a handful of sales executives who has carried a quota for 125 quarters for publicly traded companies in the tech industry.
An ardent believer in customer aligned value selling, Jim founded DecisionLink to bring automation and systemic support to what should be a core business function for all B2B organizations. "Every deal we work on is associated with a customer project that has a business case. We should not expect high performance in our sales organizations if we as sellers don't understand that business case, and the economic value of our solutions."
About DecisionLink


DecisionLink has developed the first enterprise-class application for value selling in the sales, marketing and customer care markets. We enable sellers to be "smart about their accounts and specific about their value". ValueCloud™ automates the processes required to understand, quantify and articulate value for each prospective buyer. In just a few minutes, ValueCloud™ produces a variety of assets such as ROI detail, Challenger scripts, competitive differentiation, pitch decks, and more, articulating the seller's specific, differentiated value for every deal and every customer. The result is what every business wants…bigger pipeline, higher level of engagement, improved close rates, higher deal values and reduced churn.