Historically, sales people have been responsible for both generating new opportunities (prospecting) and closing deals in the pipeline (opportunity management). However, this stance is being challenged. Spurred on by the trend towards inbound sales teams, and the importance of adding more value during the sales process, the sales space is a buzzing with ideas on how organizations can manage their sales efforts more effectively.
One concept on the rise is to separate the work of the initial outreach to convert prospects into sales qualified leads from the work of converting them into paying customers.
I recommend reading the contributions from vocal thought leaders such as Aaron Ross (@motoceo) and Marylou Tyler (@maryloutyler), who wrote the book Predictive Revenue and Justin Roff-Marsh (@justinroffmarsh), author of the upcoming book The Machine, who advocate this concept.
Why separate prospecting from other sales activities?
Generating qualified B2B leads in an increasingly online world requires people with a specific skill set and a hunter mentality.
George Brontén
Simply put – they are two separate work processes that require different and distinct skill sets and pacing. In prospecting, the goal is to engage the right contacts at the right types of potential customers and earn the right to proceed with a discussion on how to solve a potential problem. It's usually a high-volume task with many touches and activities towards many contacts in parallel.
On the other hand, the work process involved in taking sales projects from start to finish includes other tasks, such as framing the problems and aspirations of many into a joint future ambition and crafting solutions to maximize the value for the involved parties. The pace of these efforts differs greatly from prospecting efforts.
Endurance is paramount when prospecting
Generating qualified B2B leads in an increasingly online world requires people with a specific skill set and a hunter mentality. According to CSO Insights, prospecting activities typically consume 24% of a sales person's available time. In addition, 82% of sales reps feel challenged by the amount of data and time associated with researching prospects. Getting hold of the right people requires multiple contact attempts of various kinds (email, LinkedIn, phone calls) before you even have a chance to trigger stakeholder interest. Moreover, prospecting also involves a number of operational and administrative elements, such as setting up meetings, sending calendar invites and following up at designated times.
Business acumen is the key to opportunity management
To successfully manage a B2B opportunity we need to transform into creative problem solvers and truly understand the customer, their business, challenges and politics. Great communication and people-skills are needed to keep track of all stakeholders and get them to see the same vision by asking the right questions at the right time. The sales person may also need to coordinate internal resources and navigate the priorities and hierarchies within their own company in order to negotiate a sale.
Are your people in the right place?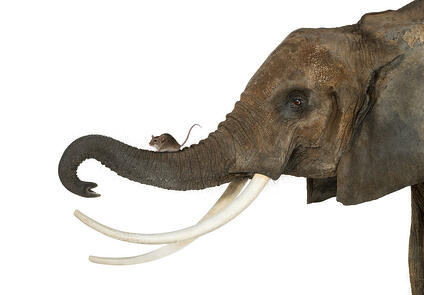 You'll likely have sales people highly skilled in understanding customers, designing solutions and communicating value to a decision committee. Prospecting may not be their top talent, nor the best use of their time. How would your organization benefit from allowing them to focus their efforts on closing business?
Further specialization may be needed
At Membrain, we support the idea of separating the two work processes and introduced this concept to our b2b sales platform in 2013. In more complex sales environments, you might even see the need for utilizing the skills of different sales people within each sales project. Having the right resource doing the work most suited to his skill-set is important and could have a major impact on your bottom line.