Mike Kunkle, VP of Sales Transformation Services for Digital Transformation, Inc. (a new division of Fast Lane), is well known in the industry for his systems approach to sales transformation.
Mike Kunkle has delivered hundreds of millions of dollars in gains for companies by building effective systems for sales selection, support, learning, and management. I met Mike for the first time "IRL" at the Sales Enablement Society Conference this past fall. He, like nearly everyone in the industry, is deeply interested in the current state and the future growth of sales enablement.
We caught up with him recently to ask what he thinks we're doing right in sales enablement, and what is still holding us back. He said that the function is growing well, but that in order to evolve for the future, it must first look back at what has worked for other disciplines and evolve to a performance consulting approach.
Here's that interview.
Q: What is the industry already doing right?
Kunkle: One of the things I really like right now is the multi-disciplinary approach many sales enablement professionals are taking - the alignment of marketing content, sales messaging, sales training, and tools, for example.
Sales performance doesn't happen in a vacuum. It's a system, like the human body, an automobile, or an ecosystem like the ocean. There's an entire sales performance ecosystem. Within this ecosystem there are different ways to support a sales force - it includes process, methodology, content, messaging, training, and technology for sure, but also includes buyer research, sales operations with things like quotas, territory design and optimization, incentives and compensation, and channel and go-to-market plans, plus then there's marketing and demand generation, and the entire talent management aspect.
Now, not all of this falls under the purview of sales enablement today, but it does all impact sales performance.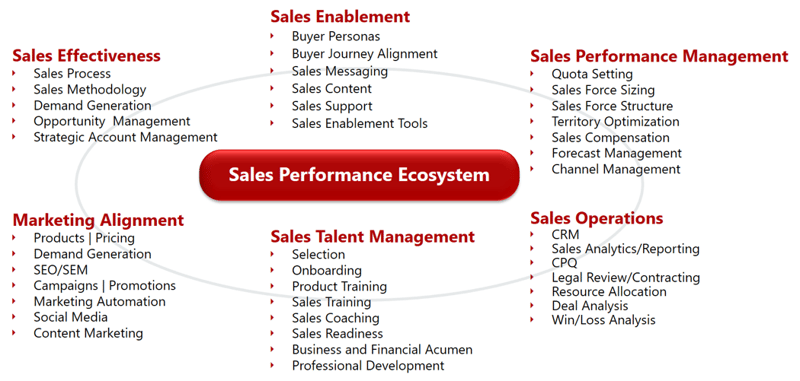 In Sales Enablement today, we talk about how some of these disparate pieces fit together and influence each other, and how to share best practices and implement process and methodology. We're talking about some of the right things… how do we onboard more effectively, accelerate ramp-up, share best practices, engage buyers with content and messaging, implement process and methodologies, and use tools. That's what we're doing right. There's a long way to go on that, but we're off to a good start. But we're not looking at the whole ecosystem yet, or how the pieces all fit together.
Q: What are most organizations doing wrong?
Kunkle: Well, "wrong" isn't the right word – it's not what we're doing wrong, per se – I just think we have a chance to evolve now. There's a great quote from one of Greg Alexander's old videos, where he said, "The goal of enablement is to increase the revenue per salesperson. Everything else is just noise." I couldn't agree more. We need to have a laser focus on the things we know improve sales results, and what moves the needle on the metrics that matter.

Today, I hear a lot of talk about initiatives… projects, accomplishing tasks, getting onboarding updated, getting new messaging done for recent product updates, that sort of thing. I don't hear enough about the outcomes or the impacts of those initiatives on sales performance.
Sales Enablement needs to evolve to a Performance Consulting approach, where we truly diagnose and solve performance problems.
Q: What are the biggest challenges facing the sales enablement industry?
Kunkle: If you think about it, in project management, there's an entire body of work that's available through the Project Management Institute. In the accounting profession, they have GAAP. In sales enablement, there is no established body of work like that. So, people are just making things up as they go, doing things based on what other people are doing, or just figuring things out on their own. We're not building on something that already exists that's been honed through years of practice.
The goal of enablement is to increase the revenue per salesperson. Everything else is just noise.
Greg Alexander,SBI
The interesting opportunity we have is that there are entire disciplines we could be building on. We have opportunities to learn from disciplines like change management, human performance technology, Total Quality Management, Six Sigma, organization development, and performance consulting.
Not all of these have a formal body of knowledge, but they're certainly a lot better documented than sales enablement. There are university degree programs and certifications, or some level of a body of work focused on gap analysis, root cause analysis, developing performance interventions, implementing solutions, measuring results, and what has worked to produce those results.
Having said that, I don't want to give the wrong impression. Some top-performing organizations are doing things that are light years ahead of everyone else in sales enablement. And there are individuals in the sales enablement field who are doing phenomenal work. But the next evolution, as I see it, is moving away from task-focused, initiative management to a data-driven, analytical approach that is broader than the current approach and addresses other performance levers in the sales ecosystem. That might include selection or sales talent audits, territory optimization, sales force sizing and structure – and these things don't all necessarily fall under enablement today.

This is where my systems approach comes in. Do you have a system for sales selection, how are you systematically supporting your reps, do you have learning systems that focus on training transfer and skill mastery, and do you have a sales management system in place to perpetuate all of that?

So, in short, I'm seeing the next stage in evolution for sales enablement as a move toward performance consulting and systems thinking.
Q: Who is currently developing a body of work for sales enablement?
Kunkle: The Sales Enablement Society has garnered a tremendous amount of support recently and is continuing to grow. The Association for Talent Development (ATD) has a sales enablement community as well. The Sales Management Association isn't solely focused on sales enablement, but much of the content is sales enablement content. These organizations are moving us in the right direction.

Of course, a number of other organizations, especially analysts, are also doing research and working to evolve the profession, including my friend Tamara Schenk's work at CSO Insights, as well as the other analysts at SiriusDecisions, IDC, Forrester, Aberdeen, TOPO, CEB/Gartner, and Aragon. The body of work is growing.
Q: What else needs to happen?
Kunkle: As I mentioned, I don't understand why we're not more focused on what has happened before us to improve organizational performance. It's like the old quote, "those who don't know history are doomed to repeat it." From Six Sigma to the Total Quality Management movement, there is so much proven-effective methodology about how to improve organizational performance, that the sales profession has ignored and not tapped into.

So, as a profession, we need to continue doing what the Sales Enablement Society and ATD are doing, capturing that current body of work. And we need to look backward and consider everything that has come before, as opposed to building from scratch. We need to develop certifications and benchmarks around sales enablement and sales performance improvement, based on what we have learned from these other disciplines and our own sales enablement experience.
Q: What disciplines should we be looking at?
Kunkle: Let's start with the best of the Learning & Development profession. It has suffered from some challenges, but if you look at the top leaders in that profession that are truly performance-based, you can learn a lot that applies to sales enablement. Then I'd suggest looking to Six Sigma, Lean, the quality movement, ISPI and ATD, especially human performance technology (HPT), organization development, and industrial and organizational psychology (IOP). That's a great start.
Q: Other than looking to other disciplines, what do you see as key to the transformation of the sales enablement discipline?
Kunkle: We'll transform sales enablement when we can transform sales. In addition to what we've talked about, I'd add a deep focus on our buyers. We often miss this because we're so focused on what we're trying to get our sales reps doing. We have to morph our sales forces into a buyer-centric machine that isn't focused on quota-crushing but ends up crushing quotas through a relentless pursuit of solving buyer problems. Many reps won't get there on their own without our guidance.

Even for this, we can look at other disciplines. Here's an example. I'm a process guy with a Six Sigma background. A process is just a series of tasks that you do in stages, and in each stage, there are exit criteria you must meet before you can leave that stage.

If you look at the buying process this way, you can ask, "What does each buyer in this deal need to see, hear, feel, touch, or believe in this stage before they feel comfortable moving forward to the next stage, with me?" Those things might be different from buyer to buyer, but if you understand the buyers' exit criteria, you can eliminate friction in the process and stop selling by superstition. The end result is, you'll get better sales results through this focus on your buyers.

I think if we could get our sales forces focused on that and selling that way, it would radically transform the profession.