What follows is not a true story, except that it is.
Once upon a time, I ordered a meal at my favorite steak restaurant. In this story, I'm on a low carb diet, so I ask for steamed vegetables in place of the usual french fries.
"Yes, sir," says the server. "You can have vegetables instead of the french fries. And with that change in your order, you'll also get a fried onion appetizer and a cheesecake dessert."
"Hold on," I say. "I don't need all that stuff. I just want to leave the french fries out of the meal and add vegetables instead."
"Yes, sir," says the server. "I understand. But our meals come in tiers. If you want to substitute vegetables for the french fries, you'll have to upgrade to our Pro Meal Plan, which includes up to three plug-ins and our most popular appetizer and dessert add-ons for the low price of only $150. If you want to choose your own appetizer and dessert, perhaps you'd like to hear what is included in the Pro Meal Plus Plan?"
Of course, this didn't really happen. It wouldn't because no restaurant in their right mind would price that way, and no customer in their right mind would purchase a meal that way.
But it is still a true story because that's exactly what it's like trying to buy software for your organization, and for some reason, we the customers keep putting up with it
I say: Enough. It's a bad way to do business, and it's harming your organization by forcing you to pay for technology you don't need or use in order to access the functionality you do want.
I propose a better plan: A pricing model that is easy to understand and fun to use, and gives you the ability to select exactly and only the capabilities you need.
That's what we've done at Membrain with our recently unveiled pricing calculator. It's beautiful. It's simple. It's flexible. It's interactive. And it's fun!
An interactive slider lets you choose the number and type of accounts you need
Start by choosing how many accounts you will use, and what types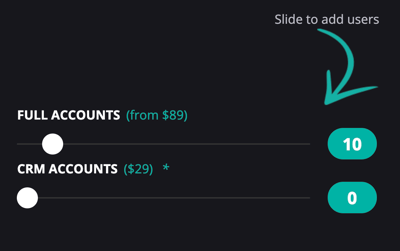 Full accounts are intended for use by salespeople and include all of the functionality that is core to their daily workflow. CRM accounts are for users who need access to the CRM database but won't be managing prospects, opportunities, and accounts, or sales teams. They make it possible for you to provide your non-sales team access at a much lower cost. This is in contrast to legacy CRM systems, where you pay just as much for all licenses, unless they are severely limited in capabilities, such as "view only licenses".
Pricing is inclusive but flexible
By default, all accounts enable:
Our easy-to-use and fully capable CRM platform and database
Productivity tools, like our calendar and built-in email capabilities
Fully customizable sales process (only assigned steps for CRM users)
The active sales pipeline overview
Context-based content enablement
Membrain guide
Story stream
Sales performance management
Membrain Go, our mobile app
Also, with Membrain, all the powerful sales enablement capabilities are built into the platform so that you don't have to buy multiple expensive 3rd party point solutions. And if you don't need all those capabilities (yet), you can opt out of each module to save money. It's a little bit like lego in that you can build your own version of Membrain.
Only pay for modules that you need
Do you want tools that will guide your team through situational playbooks, provide scorecards and decision team maps directly inside their workflow, and assigned process steps? No?
Simply deselect the dynamic process tools module.
Want to enable your team with effective sales content, delivered in context exactly when it's needed? Another no?
Deselect the content hub module.

And don't worry! You can add modules back after your purchase if you change your mind or your needs change.
See your monthly per-user and total price update in real time
Every time you make a change to the pricing calculator, you'll see your price update in real time in the bar at the bottom of your screen.

You can also choose to be billed monthly or annually, and adjust your contract length to see how it impacts your price.
Avoid implementation surprises
Have you ever gotten the bill at a restaurant and discovered they added items you thought you were getting for free?
Would you be indignant if the bill included a cleaning fee for the tablecloth you dined on or a set-up fee for the centerpiece you kept having to move out of the way so you could see your dining partner?
Something like that happened to me once, and it ticked me off.
Yet software companies do this all the time. You sign up for their low per-user offering, only to find out later that the cost of customizing, updating, adding plug-ins, and implementing the product far outstrips the price you thought you were signing up for.
We think that's a bad way to do business.
Not only is our product pricing transparent, we also offer an implementation package with guaranteed fixed pricing, called our Clearpath Promise.
The Clearpath Promise takes all of the uncertainty out of the cost of implementing a new software system. Everything is included, all at one inclusive price.
If you're thinking of upgrading your software, or even if you're not and just want to see what we're up to, come try out our pricing calculator today. Or let's schedule a call to discuss the business impact that increased sales effectiveness could have on your organization.